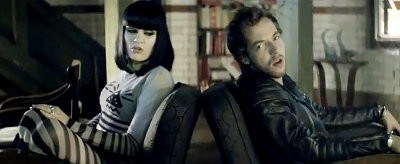 Danas predstavljam još jedan video. To je spot za drugi singl,
"Up"
, sa novog albuma
Jamesa Morrisona
,
"The Aweking"
. Ovo je, inače duet sa mladom britanskom pevačicom,
Jessie J
.
Morrison
kaže da je za njega velika privilegija što je
Jessie
pristala da uradi pesmu sa njim, jer zna da ne snima pesme koje nije sama napisala.
Divna i emotivna pesma, spot isto takav, tako da verujem da ćete uživati :) Posebno, jer ćete upoznati Jessie J u jednom drugačijem svetlu. Ipak, kritičari su ovaj duet ocenili samo kao ponavljanje njegovog uspešnog dueta sa Nelly Furtado - "Broken Strings" bez ikakvih novinacija.
***
Today I present you another video. It's the video for the second single, "Up", taken from James Morrison's second album, "The Aweking". This is a duet with a popular young singer Jessie J. Morrison says that he was honored she accepted to do a song with him, because he knows that she doesn't record songs that she didn't write.
This is beautiful and emotional song song, you can descripe the video that way too, so I believe you'll enjoy. Plus, you'll see Jessie in another light. Still, critics descriped this song simply as a repeat of his successful duet with Nelly Furtado - "Broken Strings"without any inovations.