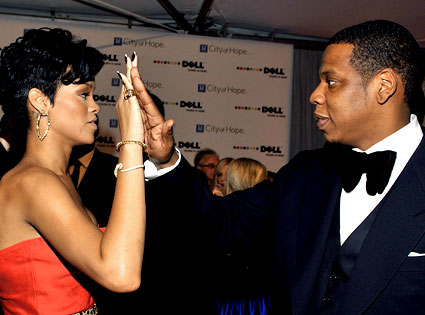 Kako prenose razni internet sajtovi, Rihanna je otpustila svog menadžera i mentora, Jay-Zija. Kao razlog pominju se finansijske neregularnosti. Za loše odnose pevačice i kompanije hip-hop mogula, "RockNation", koja vodi računa o njenoj karijeri, čulo se još u aprilu. Navodno je Rihanna bila nezadovoljna jer je nazvanično pod okrilje ove kompanije došla Beyonce, pa je Rihanna zaključila da će svi dobri ugovori i sponzorstva biti prvo ponuđeni ženi vlasnika.
Iako je Jay-Z otkrio Rihannu, dao joj prvu šansu i postavio se kao njen mentor, izgleda da će ona ipak raskinuti ugovor sa njim.
Za sada se nijedna strana nije oglasila povodom ovog slučaja.
***
According to various web sites,
Rihanna
fired her manager and mentor,
Jay-Z
. Financial irregularities are mentioned as a main reason. For bad relations between the singer and a company of the hip-hop mogul,
"RockNation", that manages her career, was heard in April. Apparently,
Rihanna
wasn't happy with
Beyonce
unofficially becoming a protege of the company and
Rihanna
came to a conclusion that all good contracts and partnerships would be offered to the boss's wife first.
Although
Jay-Z
discovered
Rihanna
, gave her the first chance and mentored her career, it seems that she decided to break the contract with him.
Neither of sides has confirmed or denied this for now.